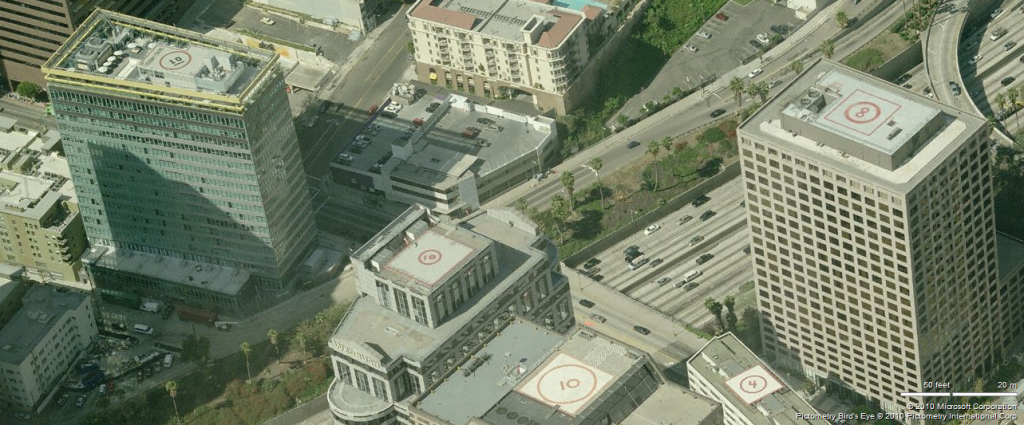 One thing that always struck me about LA – whether from browsing Google Maps or from Die Hard – is that there seemed to be a lot of helicopter landing pads on top of high rise buildings.   Was this for movie filming opportunities, or perhaps thinking of helicopters as a means to bypass LA's traffic?  Curbed LA (via planetizen) has the answer – codes:
Remember "LA Law"'s opening shot, the close-up of an '80s-era downtown? If the city looks a lot better today, one thing that hasn't changed about downtown is its flat skyline. The boxy look of the city's buildings isn't due to lack of architectural creativity, but the result of a Los Angeles Fire Department code requiring helicopter landing pads on all tall buildings.
Architects and other interested parties are in favor of stripping the requirement in order to give designers more freedom in crafting a dramatic skyline for the city.
The helipad rule, mandated on all buildings 75 feet or higher, was born out of statewide fire codes that emerged in the 1970s, according to Stormes. Long Beach has the same rule, as do parts of Orange County. Los Angeles County also has a similar code. San Diego used to have the helipad rule, but dropped it, to the delight of architects in that city. ("Architecturally, it's definitely enhanced the skyline," says San Diego-based architect Joseph Martinez, of having the rule changed. His firm Martinez + Cutri Corporation Architects has put up five high-rises since the requirement was dropped.)

Fire safety experts believes LAFD's history with the helipad is tied to its long-standing Air Operation division. Since 1962, the LAFD has maintained an aerial division; today, it has six helicopters, a far bigger fleet than most other cities. If the division is constantly busy—rescuing hikers from canyons, or fighting wildfires–the helicopters are rarely used to fight high-rise fires.

But the instances have been dramatic: In 1988, a fire tore through the 62-story First Interstate Bank Building (now the AON Building) downtown. Pilots in LAFD helicopters could see "a man waving frantically from a 50th-floor window," according to a Los Angeles Times report, and were able to direct firefighters inside the tower to him (the man later died). Helicopters also delivered firefighters to the roof, and evacuated wounded people.
Laments about architectural creativity sound similar to complaints about DC's height limit.
Part 2 continues here.