Is there a Chipotle within a half-mile walk of my WMATA Red Line station?
In case you were ever curious about transit oriented burrito chains in the DC area: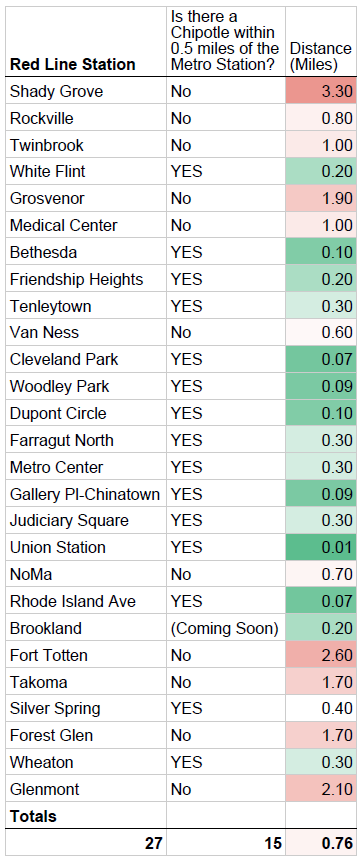 I'm not sure why I looked into this (besides having a burrito for lunch), but it seemed like many Red Line stations have Chipotles nearby. Indeed, 15 of the 27 Red Line stations have a Chipotle within a 0.5 mile walk (with #16 coming soon – in Brookland). Distances were determined by Google Maps walking directions with some minor adjustments.
As of June 30, 2015, there are 1,878 Chipotle restaurants in the world; 97 of those locations opened in 2015. Anywhere on the Red Line, you're never more than three stops away from a walkable burrito chain. 14 of those are walkable to a Red Line station. A few Chipotle locations are the closest outlet for multiple metro stations (the closest location to Van Ness is the Cleveland Park Chipotle); at least one location (the 7th and G location) is the closest Chipotle to three different Metro stations (Metro Center, Gallery Place, Judiciary Square).
The award for the closest Chipotle to a Metro station entrance goes to Union Station, located just a few feet from the top of the escalators. Union Station also wins for having two Chipotle locations – with a recently-opened location in the station's lower level food court.