In cities with strong real estate markets, affordable housing is a big problem. And it's not just a problem for those with lower incomes, it's a problem for everyone. The problems aren't even limited to just their own metro areas.
Note: in this case, the term "affordable housing" refers to the plain meaning of the word: housing that is affordable (not Affordable Housing, in reference to a set of programs designed to subsidize the cost of housing – see this from Dan Keshet on the difference, as well as a better way to think about it: abundant housing).
Expensive housing is squeezing people at all income levels
The DC Fiscal Policy Institute documented the disappearance of DC's market-rate affordable apartments in a report: Going, Going, Gone. And while the focuses on the dramatic decline in apartments available for an inflation-adjusted $800/month between 2002 and 2013, rents are up for all incomes in that same time period – and they've increased faster than income growth.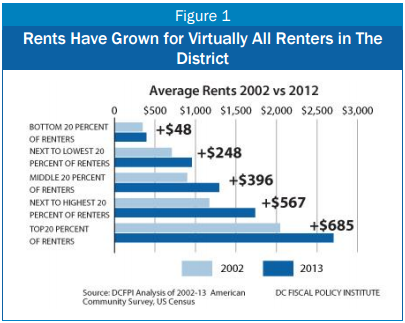 Rising rents for those with higher incomes presents less of a challenge, since these households can afford it. But simply because higher income households can afford higher rents doesn't they want to pay more than they have to.
It's not just a phenomenon in DC, but in lots of strong real estate markets. Richard Florida summarizes some research from Todd Sinai at the University of Pennsylvania, noting that rents in many cities have been outpacing income gains for more than a decade. Like DC, rents are rising and requiring a larger portion of income for a wide range of income brackets: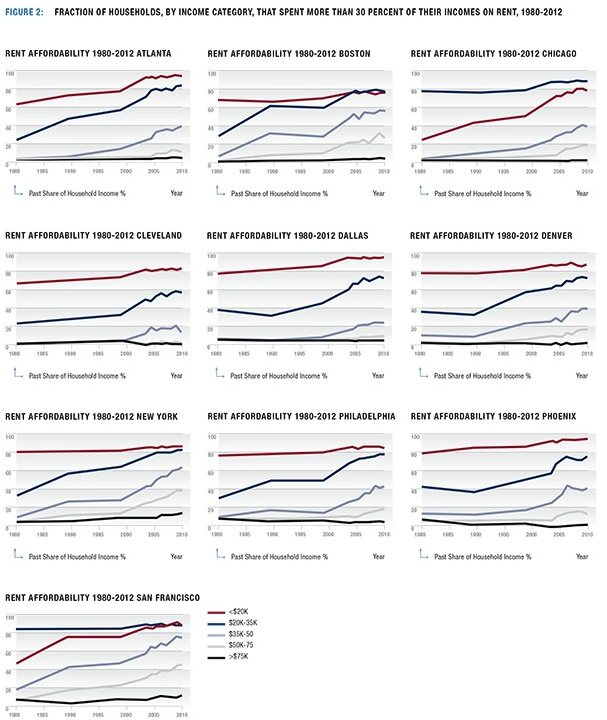 The upward trend for each of these lines represents a larger and larger portion of household incomes spent on rent in cities across the US. Sinai suggests that any policy response would require a large increase in the supply of market-rate housing (as politically challenging as increasing housing density can be). Because even a large increase in housing units would merely moderate prices, Sinai recommends a targeted program of housing subsidies, as well.
Even with these potential remedies in mind, Sinai isn't optimistic: "It is hard to conclude that there is an affordability cliff from whence we can step back from the brink.  Rather, the threat to housing affordability in this country is much more fundamental, and more economically pervasive."
The higher rents are hurting the economy
It's not just an inconvenience to pay a lot to rent an apartment, even if you can afford it. As Sinai argues, this added rental cost is "economically pervasive." Put another way, the failure to add housing supply in strong markets is a huge drag on the economy. Kriston Capps summarizes research by Enrico Moretti and Chang-Tai Hsieh:
Hsieh and Moretti came up with a way to measure what local output and national growth would look like if wage dispersion were equalized. They proposed a model that lowered the regulatory housing constraints in New York, San Francisco, and San Jose to the level of a median city. If workers were able to cross over from low-wage cities to high-wage cities—that is, if New York, San Francisco, and San Jose were to lower barriers to new housing and let them in—then GDP could rise by 9.5 percent.
Easier said than done, but it does show the magnitude of the problem. More people would move to these productive metropolitan areas if the housing prices were more affordable.
Affordable Housing vs. affordable housing
Part of the reason to illustrate rising housing burdens for all incomes is to help define what "affordable housing" means. The plain English meaning is simply housing that is affordable. Relative to a household's income, how much can they afford to easily pay for rent or a mortgage?
Then there is Affordable Housing (capitalized here), referring to a whole host of programs that subsidize housing for lower-income households. Labeling these subsidies under the umbrella of Affordable Housing is an effective bit of rhetoric to earn support for these programs (who would possibly be against affordable housing?) in light of the sullied reputation of public housing.
You can see the confusion in some of DC's recent debates about the impacts of rowhouse pop-up expansions on housing prices. The DC Zoning Commission recently tightened rules on development in these zones, with one commissioner unconvinced that additional housing units would create more affordability:
But Anthony Hood, the chair of the commission, pushed for the restrictions, saying that he didn't believe that pop-ups and condo conversions helped bring down housing prices.

"This connection to affordable housing? I'm sorry, I haven't seen it yet. I'm still waiting for it. It's not a reality."
If Hood is thinking of capital-A Affordable Housing, then he's correct. But that's not the only meaning of the term; it's not the only measure of affordability. And while additional market-rate housing units might not directly help lower-income households, they can make a big difference for those middle-income households feeling a squeeze.