On the heels of the recent announcement from the US Census Bureau about DC's continued growth, it's worth asking how exceptional this growth is. Ask around, and you'll find commentary about DC's unprecedented building boom – or about how this growth isn't particularly exceptional. So, which is true?
DC's Deputy Mayor for Planning and Economic Development released their economic intelligence dashboard, compiling various economic indicators for the District.  The population data from the US Census Bureau is displayed both in absolute terms, but also showing year over year change: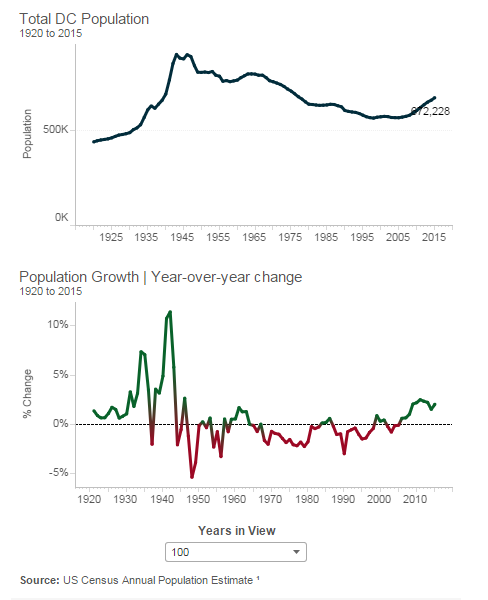 A few observations:
DC's current trend hasn't been seen since the 1920s and 30s. While there have been a few years of growth here and there post-WWII, there hasn't been a decade of sustained population growth like we've seen in the past ten years. The longest streak of years with consecutive population growth was over a period of 5-6 years in the early 1960s. In the lifetime of a resident, chances are they haven't seen a boom like this – only 11% are 65+ years old.
Does that make this growth truly unprecedented? Not in terms of magnitude. Even with that sustained growth, DC's current boom pales in comparison to the rate of growth seen before WWII. The current growth of ~2% seems paltry compared to 5% or 10% annual growth.
To be fair, those years were the last of greenfield development inside the District; but it's not a surprise that about half of DC's housing stock dates back to this era. Those kind of large-scale development sites are few and far between, as the frontier for Washington's urban area pushes deeper into the suburbs.
DC's current growth is largely based on the center city and redevelopment of low-density industrial and commercial areas. Without actively planning for additional development and incremental land use change, it's not clear if that pattern alone can continue to sustain this kind of population growth.